Does Professional Water Damage Restoration Affect the Level of Damage in Abington Properties?
6/18/2021 (Permalink)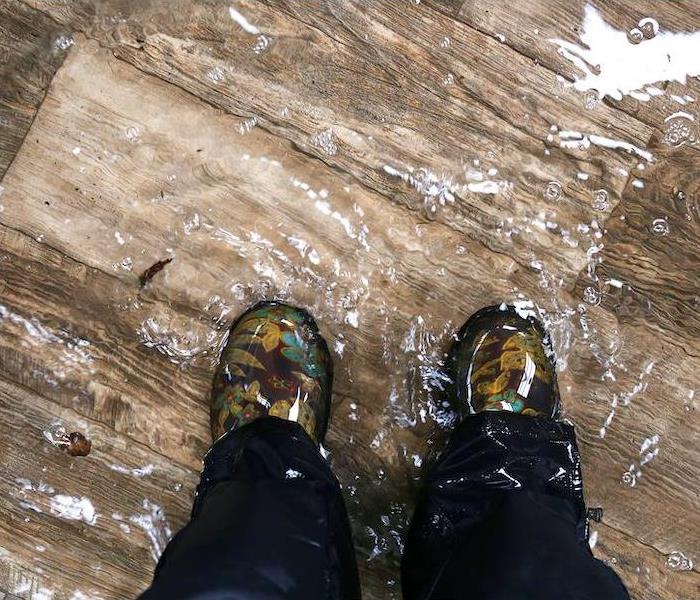 Pooling water from a water disaster can be armful. Call SERVPRO and let their team of experts do the dirty work for you.
SERVPRO Anticipates Some Problems during Water Damage Repairs in Abington Homes Thus Avoiding Them
After a leak in your Abington home, you might have several issues to address before your property regains its preloss state. What you might not realize is that water damage involves more than just the puddles pooling on the floors or soaked items. Involving a professional restoration team eases the restoration of all issues, including the hidden ones.
Many of the hidden aspects of water damage in Abington homes develop after the initial loss. For instance, when water is left to sit on surfaces for long, it evaporates, increasing humidity levels which can shift damage to other areas through condensation or absorption by hygroscopic materials. High humidity levels can also affect items such as electronics by causing rust in internal components. The Actions taken by SERVPRO can help prevent these outcomes.
Actions taken during water damage remediation fall into different categories like:
Water clean up
Water damage repairs
SERVPRO technicians can protect your valuables from harm even as we prepare to extract the water pooling in the property. We check humidity levels room by room using thermos-hygrometers and set up dehumidifiers to keep relative humidity at optimum levels such as 50%.
Our teams also expedite water removal using several portable extractors, limiting the time it interacts with various materials in your home. Such action helps save more semi-porous materials since it reduces the amount of water absorbed.
Optimizing repair work is also possible through steps such as:
Making unique wall cuts, thus removing only the affected materials
Reducing teardown by using cavity drying equipment
SERVPRO of Metro Brockton customizes water damage restoration efforts delivering the exceptional results homeowners need. Call us at (508) 690-4690 when you need assistance. We're Faster To Any Size Disaster.